How to Set up your own Traveler's Notebook
If you received a journal, you're probably a little curious about how to set it up exactly. Or change it to fit your needs or replace journals. Well look no more!
Materials Needed.
A Cover
Elastic
Notebooks
A folder (optional)
Business card holder (optional)
Pencil pouch (optional)
Zip pouch (optional)
To make your own cover

Previous items
Leather or other semi-sturdy material
Needles
Scissors
Glue
Kraft paper
Cutting mat
A leather punch or awl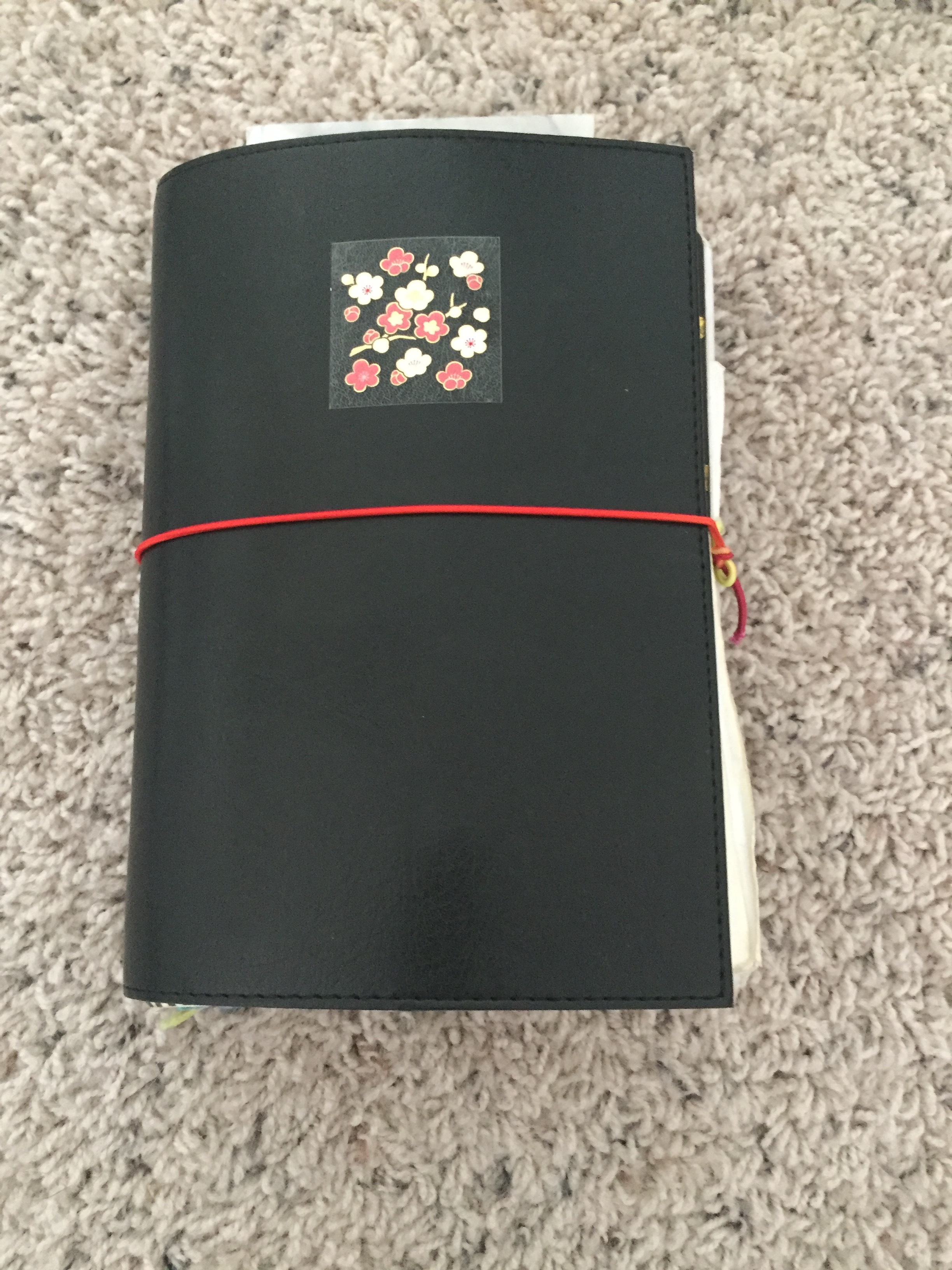 You can easily use any blank cover you want, but I recommend something thick and sturdy enough to not flop every where when you open your journal. But not too thick that it's hard to punch holes into for the elastic.
You can buy covers already made from Michael's, Etsy, (the original) Midori Traveler's Notebook, Amazon or Webster's Pages. I bought mine as a regular notebook from Office Max and then took out the notebook and punched holes in it. I also made the purple one below out of purple leather from Joann's. And the other image is the inside of my champagne-colored Webster's Pages Travel Journal that I keep in my purse.
Gather the pieces you'll want to use. You can buy premade pieces easily from Michael's (if that's where you got your journal), Amazon, Midori Traveler's Journal, Webster's Pages, or Etsy.
Common pieces include notebooks, folders, pencil pouches, plastic zip pouches, business card holders, etc.I made my own here (notebooks, business card holder, and folder) and bought a pencil pouch and zip pouch from Micheal's.
3. Insert your first notebook by placing the elastic band(s) down the center of the spine.
4. Unless your cover is made with multiple elastic bands- to add extra pieces, slip elastic in the middle of two pieces and slip around the first notebook.
5. Double check it's set up how you want it and start enjoying!